June 19, 2019 Uncategorized
Team MVP Interviews: Matt Dollar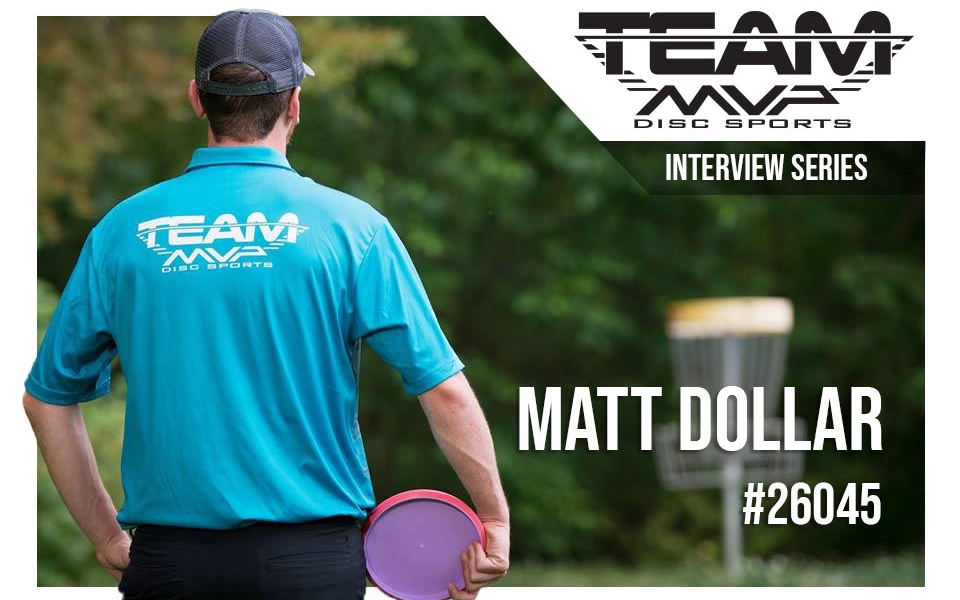 Get to know Team MVP Captain Matt Dollar!
We are kicking off a new series of interviews for fans to get to know some of the amazing people on Team MVP. Starting us off with the first interview is the Team MVP Captain and all around great guy, Matt Dollar! One of the most interesting things I have observed from Matt is his unique approach to the game, with his wide array of overhand shots creating lines that are completely mind-breaking to a right-hand backhand player like myself. At times it seems like Matt is playing his own version of the game, and also excels with traditional styles of backhand and forehand shots. The master of weaving through the woods, Team MVP Captain Matt Dollar!
-Gary Vigil #76132
Team MVP Assistant Manager
Significant dates to your disc golf experience:
2001- First Disc
2004- First PDGA Event
2005- Joined the PDGA
2007- Won First Pro Tournament
2018- Joined Team MVP. Reached 100 PDGA Pro Wins
What is your go-to most trusted disc in your bag and why?
Not fair! I trust the Phase, Deflector, and Envy equally! So no matter the distance, I have the disc!
What disc is the best-kept secret in your bag?
Probably the Thumber Roller. No one ever expects someone to throw them off the tee.
When you teach a new player how to throw a thumber, it's instinctive for them to turn or roll their wrist in their throw. Rolling your wrist limits power and the amount a disc will pan on thumbers. To get more pan on your thumber, learn thumber rollers. Get that disc on the ground 10-15 feet out of your hand, and bring up that thumber straight. Learn to throw it without the disc going left immediately out of the hand, and that will develop your thumber.
Follow up question, what is the line produced by a Thumber Roller?
It's a similar line as the backhand roller, but more right turning, without over turning. It's usually a sign of a bad golf hole.
When I started throwing thumbers, there was one right way to do it, then I started to figure out all of the different angles, different powers. So before I really trusted the backhand I entirely relied on the thumber.
What was an early mantra of your game?
Hit the first gap, and survive
Current mantra for your game?
"If I can give myself a look, I can make it from anywhere" 100 feet in any direction in an open window. It doesn't always go in, but you gotta believe.
What are some of your short and long term goals in disc golf?
Short Term- Win a Major, DGPT, or NT Event.
Long Term- Win a Major, DGPT, or NT Event.
Follow up question, what would be the one event you target the most:
Worlds, #1 goal. MVP Open is the next one on the list, Playing Maple hill since 2007, and i've been to all of them. It's a special course and feels like the home of the Pro Tour. Now that it's the MVP open, there is even more motivation to win, and it's woods golf!
Do you have any advice for developing players?
Practice Short Range Putting. It's the easiest/quickest thing to practice and also the most important.
Practice from 15 and 20 feet to get better at the 25 footers. If you're not making 60-75% of your practice putts at a certain range, then you're hurting yourself. It's all about making putts. Perfect from one spot makes you really good from just farther than that.
What makes a good disc golf course good?
Tough but fair lines, and it must be fun!
Follow up on how to handle tough courses:
Get out of your own way, in a way that you won't upset your "team". You know how to play, you need to call the shots and caddy yourself into playing great
Being an emotional player, I try and step back and be my own coach and caddy. We gave one up, not a big deal, take your emotions out of the moment. Everyone knows how to play and putt, you have to put yourself in a mental place where you can score
Home course / favorite course?
Home Course- Chattahoochee Pointe. Favorite Course- Maple Hill
Which course would you play more if you could?
Flyboy Aviation, Maple Hill, Iron Hill, The Darkside
Every one of these courses, besides flyboy is a true wooded course, playing in the open doesn't present the challenge and beauty of nature that disc golf creates. Seeing how people play in the woods differently, and these are my favorite courses in the world. Flyboy is a once a year invite thing, so a rare occasion to play.
With many new 2019 releases, what is making your bag?
Axiom Pyro and the Streamline Lift, this is the first single mold that is making the bag. Perfect for 350 low ceiling pipe shot with lots of glide.
Also, the Streamline Stabilizer which reminds me of a star Rhyno, straight flight with a little hook on the end. And it's going really far!
Anything you would like the fans to know about you?
I'm a lifelong athlete and outdoorsman. I'll play disc golf forever because I love it. Being a part of the Gyro family has been and continues to be amazing!
If you ever see Matt at an event, feel free to say Hi and talk Gyro!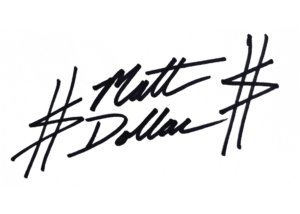 Keep up with Matt Dollar on his Facebook athlete page and Youtube channel.