July 11, 2019 Uncategorized
Team MVP Interviews: Elaine King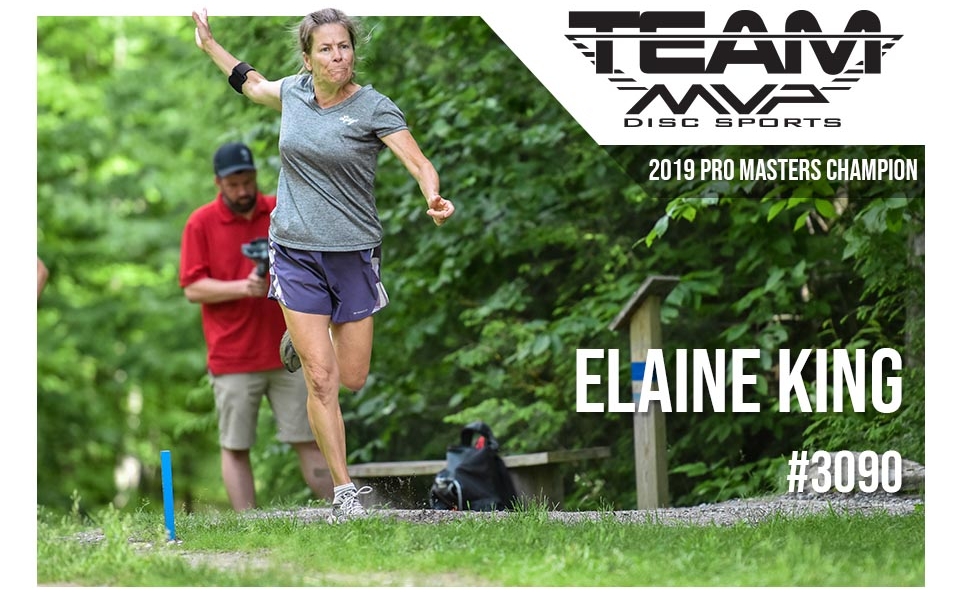 2019 Pro Masters Champion Elaine King!
How does it feel to be the 2019 Pro Masters Champion?
Anytime there is stiff competition and you come out on top, that always feels great. Tuesday's round was played almost entirely in the rain, starting with a cold drenching cloudburst, which combined with high winds and abundant OB made for incredibly challenging conditions. It was interesting after 18 holes that there were six of us within two strokes. So after that difficult round, we all were excited to still have a chance.
My one regret from the first round would be course management. There was an opportunity to gain strokes by staying in bounds and staying in the fairway, even if the shot didn't advance very far. That was the advice I gave myself because it was so windy and rainy, but following my own advice was super hard to do!
Follow up on being one of the top FPO players in staying in bounds statistics:
Well, I really blew that last Tuesday and will be out of the running this year 🙂
When did you know you had it?
I was leading 8 strokes going into the final 9, but even big leads can evaporate when bad luck mixes with bad shots. I was very aware of that so I wanted to go out and attack those 9 holes with confidence. There were a few very tight lines and a fair bit of OB to deal with. So I went out and practiced a few holes to get a comfortable feeling with what I needed to do. I didn't throw every shot perfectly, but I was always able to scramble for par.
—–
Congratulations to Elaine King on winning her third Masters World Championship from everyone here at MVP!
Now back to the 2019 Team MVP Interview questionnaire:
What are some significant dates to your disc golf experience:
Started playing – July 1983
Women's Masters World Disc Golf Champion – 2009, 2017, 2019
US Women's Disc Golf Champion – 2003, 2007
Women's World Disc Golf Champion – 1991, 1992, 1993, 1994, 1997
Senior Player of the Year – 2012; Disc Golf Hall of Fame – 1997
Player of the Year – 1990, 1993, 1994, 1997
What is your go-to most trusted disc in your bag and why?
Relay – When I need to hit a tight gap or ensure that I stay on the fairway, I will reach for the Relay.  It feels very comfortable in my hand and gives me the confidence to throw a controlled shot. The Relay has a straight flight when thrown flat and it holds a hyzer or an anhyzer.
What disc is the best-kept secret in your bag?
The Orbital – When thrown high with an anhyzer through the woods it holds the line and magically slips between the trees.
What are some of your short and long term goals in disc golf?
Short term goals – Keep my player rating into the 940s.  Get elected and continue to serve on the PDGA Board of Directors.  Get onto the lead card with video coverage in some NT/DGPT/Major tournaments.
Long term goals – Get my player rating over 950.  Work with the PDGA to help grow the sport and provide more services to players.  Continue to balance work and disc golf (play new courses, compete in different tournaments, coach others to improve their skills).
Do you have any advice for developing players?
Limit the number of disc types that you throw.  Start with discs of neutral stability and learn to throw straight, hyzer and anhyzer.  Enjoy playing courses, but spend an equal amount of time doing field work.
What makes a good disc golf course good?
The player should be challenged by every shot.  There should be a wide variety of shots required.  Hole lengths should vary. Control should be required to place each shot.  The course should take full advantage of the natural terrain.
Home course / favorite course?
Home course – Valley Springs, Durham, NC
Which course would you play more if you could?
Moraine State Park
With many new 2019 releases, what is making your bag?
MVP Entropy
Elaine King Fission Photon – Playing in the rain? Fission photon for grip!
Anything you would like the fans to know about you?
I am very serious about playing to the best of my ability, but I like to have fun with my group during the round.  The camaraderie of the group is important to me, and I have made lifelong friends by playing this amazing sport.
For more on Elaine King, follow her on facebook!